The Prime Unicorn Index added 19 constituents and dropped 15 in its quarterly reconstitution, for a total of 148 index components for Q3 2022. Currently, the median market cap is $2.52 billion and the Index's total market value is $636 billion.
The following qualified as new index components this quarter with their valuations being greater than $1B:
National Resilience
6Sense Insights
Abnormal Security
Functional Software
Cybereason
Bitsight Technologies
Salsify
Dremio
Tessera Therapeutics
Roofstock
Pax8
FrontApp
Alto Pharmacy
Amalgamated Token Services
Cirkul
CaptivateIQ
Placer Labs
Electric AI
Beyond Identity
14 companies satisfied the IPO trading days requirement, and one was acquired.
The Q3 2022 Prime Unicorn Index Reconstitution Report provides more information on the new 15 constituents and how they compare against the Index.
______________
About the Index
The Prime Unicorn Index is a modified market cap price return index that measures the share price performance of U.S. private companies valued at $1 billion or more. The price changes of component companies are calculated from publicly available information associated with company transactions, filings, and other disclosures. The index provides empirical data to asset managers and financial advisors interested in tracking today's private capital markets. The index is designed for use in the creation of financial products and as a performance benchmark.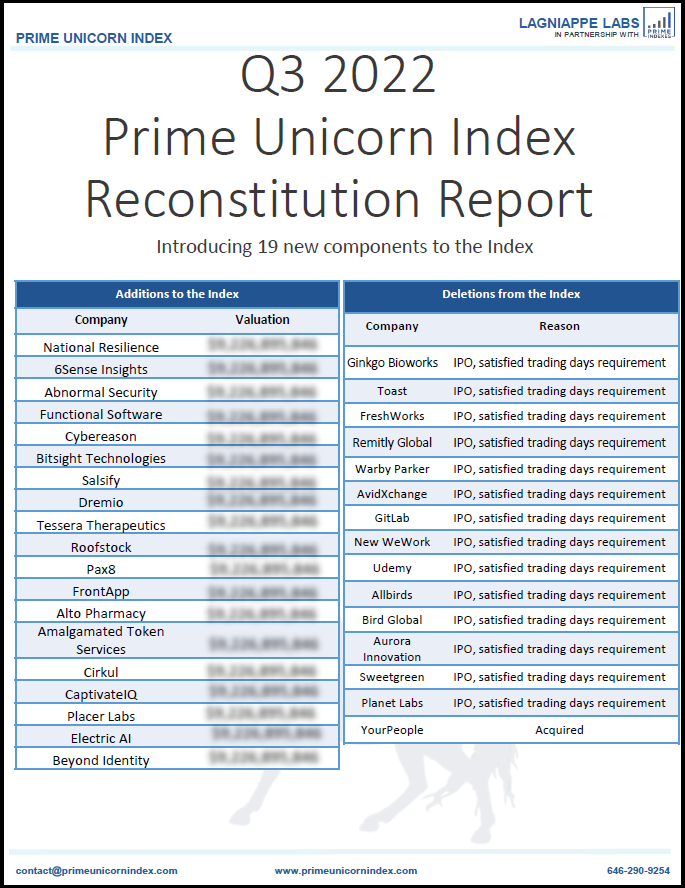 Get Notified When We Post New Reports!